Cemeteries in Italia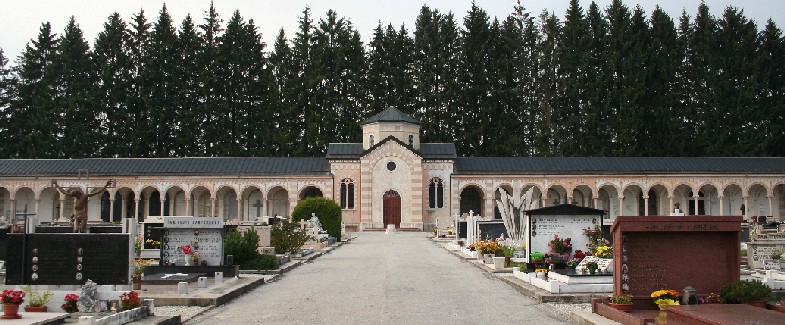 (the Asiago cemetery)
I found the following information on a Chicago area Italian web site. It was written by Daniel E. Niemiec.
What to expect
Recent burials (10-15 years) are in the ground in chronological order, not with family

Older burials (60-70 years) are in small outdoor crypts (moved from ground)

Spouses are not always entombed together, and are buried with maiden name

Some family mausoleums like in American big city cemeteries

Lots of photos on the crypts, frequently blocked by flowers!

Some older crypts are faded – you can't read the carving

Cemetery staff not happy about American tourists with cameras – be discreet
What not to expect
No you won't find the ancient gravestone of your 15th century ancestor!

You may not find anything older than World War I

Most crypts just have the years, not the complete dates

It is not the garden-style, multi-acre cemetery we are used to in America

There may not be a map showing the cemetery layout

The staff speaks Italian and does not speak English

You can't stay into the afternoon – lunch time means you have to go
Information you can find
Death dates and years much later than the civil records

Photos of relatives your auntie doesn't have

You can learn which relatives went back to Italy and died there
My personal experience
The staff gave me lots of grief about the camera.

My Italian relatives convinced the staff that I only wanted 3 or 4 ancestors

I took pictures of entire walls of crypts at the largest picture setting

When I could take an entire wall, I put the camera in "Movie" mode and walked

In Triggiano, all crypts had dates and most had photos

In Carbonara, crypts only said "Famiglia Abbinante" and no names or dates!