We Miss You Elsie DeWitt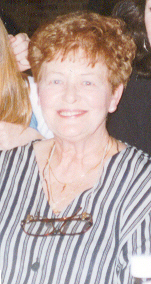 A Final Goodbye by Barth
What words can one say to express how much our mother meant to each and every one of us? I had the unenviable honor of composing a eulogy for her. I could have stood up in front of everyone for 70 years and 10 months (our mother's age when she died) and still not have said enough to describe this magnificent woman. In addition to her own life, Mom lives on inside each of us.
Each one of us was touched by Mom in some way. She has left an indelible mark on each of us. To some she was a daughter, to others a sister, a wife, a mother, a grandmother... but to everyone, Elsie was a friend. There was never a time when you reached out to our mother and asked for her help that she did not give it. She never asked anything in return except your friendship, which you gave freely, because that's the kind of person Mom was. You knew she was your friend, and you knew you could trust her to be there for you. You were there for her. She loved you.
Our mother has always been an inspiration to us, a guiding force in our lives. Even in adolescence, as we tested her limits until we heard those dreaded words, "Wait until your Father gets home". Throughout our youth and even the latter years, she showed us how important a positive attitude can be. Her belief was that giving up solved nothing. By believing in oneself, a person can achieve anything they desire. The only thing that could keep anyone from achieving their dreams was themselves. So every time one of us would struggle, we'd pick ourselves up, grit our teeth, and rededicate ourselves to the goal we had set.
Those words were never empty advice from a woman preaching platitudes. Our mother implemented those very same beliefs throughout her life, but most dynamically when she discovered that she had lung cancer. Nine and a half months ago, we were informed the doctors had discovered cancerous tissue in her right lung, and all indications suggested that she would be gone within 1-3 months. They said it was inoperable and neither chemo nor radiation would help. Although Loyola proved them wrong, and were able to extend Mom's time with us, the cancer stayed within.
This didn't stop our mom. She was going to have a miracle, and that was that. She asked Pastor Clark to anoint her. She rededicated her life to Jesus Christ, and we watched as a fairly secular woman became a woman devoted to God. How easy it would have been to say "I give up." How easy to surrender herself to the inevitable. Many people do this. Not our mother. Mom seized religion by the throat and shook it until she felt the blessing of the Lord descend upon her. And the blessing that the Lord gave our mother was a quick passing beyond the Pearly Gates. She didn't suffer, not one bit.
Two days before she passed away, she was discussing being able to shop at Wal-Mart. So we were all surprised early Valentine's Day morning that the Lord had taken her. She was gone. Maybe her time on earth had simply expired. Maybe it was her time to die. But maybe the goodness of her soul simply got to be more than her mortal body could hold, and maybe, just maybe, her spirit escaped to rejoin her with the angelic host.
In time, all of us will see Mom again. We know she still hears us when we cry her name, and we know she watches us as she waits above. Remember that Mom did not want anyone to grieve for her. Like she told Debbie, "No crying". She knew she was going someplace better as soon as the Lord was ready to take her, and we know that she would rather we celebrate her passing with song rather than with tears. But we, sad to say, are still mortal, and as mortals we feel her loss profoundly. Not because we are sorry for her, but because we are going to miss our friend. So it's okay to cry, but remember to sing.
We love you Mom!